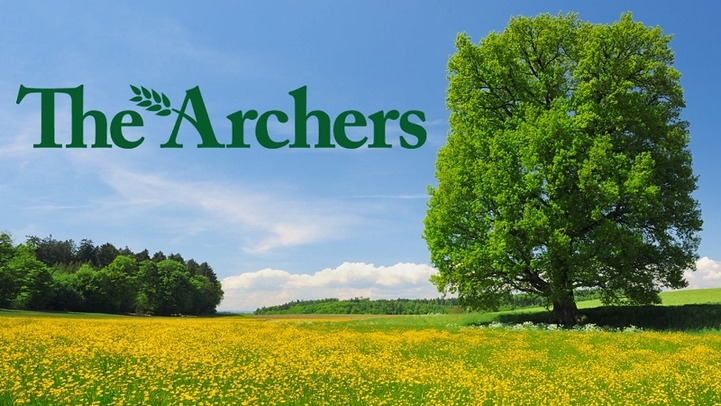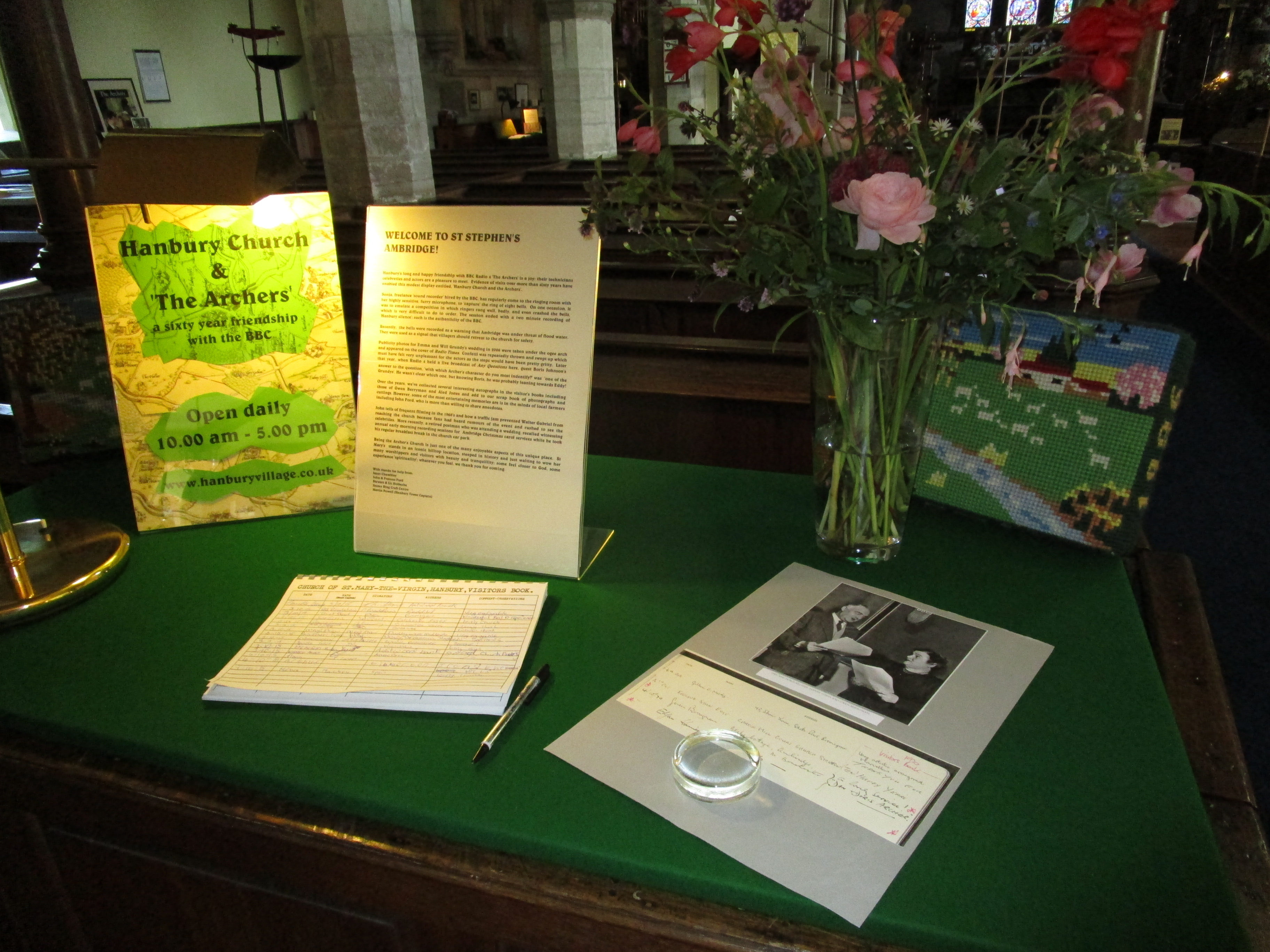 Gwen Berryman Signes Visitors Book
BBC RADIO 4 THE ARCHERS AND HANBURY
Hanbury's link with the Archers has existed for over sixty-five years, stemming from a post war initiative on the part of Godfrey Baseley to dramatize 'the everyday life of country folk' including tips regarding 'good farm practice'. Godfrey lived in New Road, Bromsgrove and local farmers were his close companions.Consequently, Hanbury characters were transposed into the Ambridge setting and the parish church of St. Mary the Virgin, Hanbury became the regular sound recording location for church-related storylines surrounding St Stephens parish church, Ambridge.
The most recent sound recordings have been in the tower and the most recent filming was for 'Harvest' and 'Advent' 'Songs of Praise' which showcased a prize-winning school choir occupying the choir stalls. The presenter was the charming Aled Jones who sportingly signed the visitors' book as Gwen Berryman had also agreed to do, decades before!
In 2006, photos of Emma and Will Grundy's wedding were taken for the cover of 'Radio Times' and later that year, when Radio 4's 'Any Questions' was recorded live in church on a Friday evening, 'The Archers' featured in one of the more light hearted questions.
The panel was asked, 'with which Archers character do you most identify?'. The then Mayor of London Boris Johnson's response was 'one of the Grundy's'; he wasn't sure about which one, but we can probably guess! This was a wonderful event attended by three hundred and fifty people who had acquired free tickets on a first come first served basis.
In the 1955, recording was rather hush, hush as the actors were hailed as top celebrities. On one occasion, a traffic jam along School Road prevented Walter Gabriel from reaching the church on time for the marriage of Phil Archer and Grace Fairbrother.Apparently, police were sceptical about his true identity but he was eventually believed!Throughout the sixties, the local postman observed annual early morning recording activity for the Ambridge Christmas services, while taking his breakfast break in the church car park.
Being the Archers' Church is just one of the many enjoyable aspects of Hanbury Church.She stands in an iconic location, steeped in history and waiting to wow with beauty and tranquillity. Please come along to see for yourselves:
'The Archers Display' can be seen annually throughout March and April Open 10.00 am – 3.00 pm
An interesting scrapbook can be viewed all year round
Directions
St Mary the Virgin, Hanbury, Worcestershire B60 4BP
2 miles from National Trust Hanbury Hall
M5 Junction 5
Disabled access on request
You can listen to all the latest episodes of the Archers on the BBC website by clicking ' here'.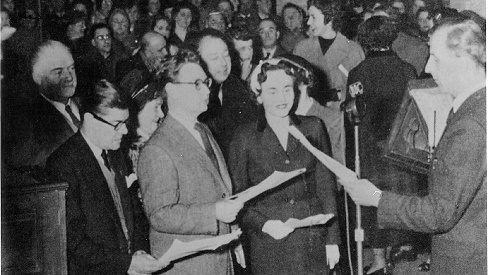 The wedding of Phil Archer & Grace Fairbrother 1955