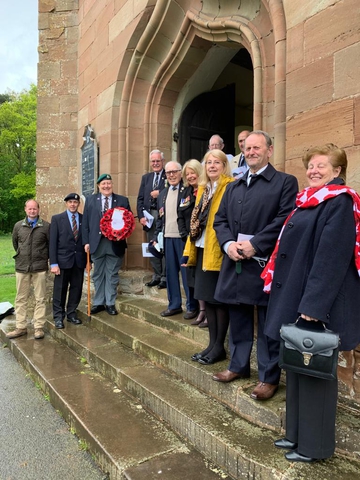 Welcome back to the parish magazine. It feels so good to be worshiping together once again and to be preparing for a Hanbury couple's wedding with 30 guests, only one week away from the time of writing. Steve and the band in the tower will be practicing a ring of three instead of their usual eight and the grounds are looking lovely as the bluebells fade.
The historic process of relinquishing the current green marriage registers together with the book of unused marriage certificates is now complete!In early May, while County Hall's car park was refreshingly quiet, all the churches were invited to hand over these precious contents of their church safes, and it felt sad to lose our very personal link with the charming staff at County Hall. In future, a sheet of A4 paper bearing the relevant information from the wedding ceremony will be posted by churches, to the registrar, to be followed up within twenty one days with a phone call from the newly marrieds in order to obtain their marriage certificate details.
It is interesting to note that in a period of fifteen years and at least two hundred weddings, not one person has ever complained about a mother's name not being recorded in the registers. Mothers were often asked to be witnesses but not always. A Canon of the C of E once explained that the name and occupation of one parent was simply a belts and braces identification to guard against confusion should there be two people bearing the same name, the same job and the same age. The understanding was that there would never be two people who matched in these respects and whose fathers also matched. In spite of this, people could opt not to have their father's name recorded for compassionate reasons. There are many good reasons for updating the almost two-hundred-year-old system but it must have been a particularly sad loss for the churches who relinquished registers which dated back hundreds of years. The new system follows the one used in Scotland.
We've become very fond of the group Ascension Day service which is Hanbury's only weekday BST evening opportunity to worship and which took place on 13 May. The lighter evenings and the sight of luminescent young leaves on the surrounding trees, created a lovely atmosphere inside the church.Communion was inside after all but it certainly was memorable. It was a treat to have Wyn and Melissa Beynon present for one last time prior to their departure from Stoke Prior Vicarage at the end of May. Melissa will be ordained Deacon at Worcester Cathedral on 4 July to minister in Halesowen while Wyn will be licenced to a part time post as Interim Minister for Belbroughton and Blakedown. There will be a farewell service on Thursday 27 May at 7.30 pm in Stoke Prior which can be viewed via zoom link from 7.15 pm. Please request link at juditheburman@aol.com. We hear that the renovations look wonderful, so do call in for a look when the church reopens.
Wyn describes theWychebrook Group as the shortest-lived Benefice in the long history of the Church of England and we thank him for all that he did to bond this rather too large group of churches. As Droitwich Deanery is no more, Hanbury and the Bowbrook Group parishes join Evesham and Pershore Deanery, taking Stock and Bradley Green back into the Bowbrook fold.Wyn's original churches move to Bromsgrove and Feckenham joins Redditch. Feckenham is a marvellous church and we must be sure to keep in touch with our dear friends there.
On Saturday 15 May, The Royal British Legion celebrated one hundred years since its foundation in post Great War Britain; you may have seen national coverage on the main channels? Our own Stoke Works, Hanbury and Wychbold branch had requested a low-key service in church, most especially to re-dedicate their work in remembering and also caring for ex-service men and women and their families.
The committee meets monthly to review visits to members in challenging situations, the annual 'Poppy Appeal' collection and Remembrance Day services. The branch is in touch with national events and builds links with neighbouring branches with an eye to marking anniversaries of note. One of the most formal and moving duties of the branch is to provide the presence of the branch RBLStandard at commemorations and funerals with military precision. Throughout the year, social gatherings are held at Stoke Works Club, summer and Christmas coach trips being open to all. These are always a joy and good value so please do look out for advertisements in the Bowbrook News.
Numbers in church were limited for the one hundredth anniversary service, which was led by the Reverend David Morris. Hymns were 'heard' but not sung and readings and prayers were delivered by attendees. The service commenced with Elgar's 'Nimrod' played by organist Keith Hearneshaw, and hymns included 'I vow to thee my country', 'For all the Saints' and 'Jerusalem'. The Worcester's March 'Royal Windsor' and William Walton's 'Crown Imperial' brought the service to a stirring close.
It was a privilege to welcome this generous and good-humoured group for the service and also to honour those who were unable to attend.We prayed:
Especially remember the Royal British Legion
as they rededicate themselves
to support, compassion and service,
and as you remember them,
remember us, O Lord;
grant us peace in our time
and a longing for the day
when all people will be brought
into the unity of Christ's kingdom.AMEN
After the service, the poppy wreath which had been blessed at the altar, was placed on the village war memorial.
REGISTERS
Ashes interment
Gillian Lesley WAINE aged 86 years
Funeral and earth burial
Angeli AVRAAM aged 42 years
Earth burial
Zita Maria Barbara Petronilla McCONNELL aged 74 years
Remembered in our prayers
DIARY
SUNDAY WORSHIP WEEKLY ON ZOOM at 9.00 am
(40 minutes duration)
To join the contact list for weekly log on details
email juditheburman@aol.com
COMPLINE ZOOM Mon – Fri 8.50 for 9.00 pm
(30 minutes duration - excellent night cap)
To join the contact list for weekly log on details
email barbarawheatley@btinternet.com
HOLY COMMUNION IN CHURCH
SUNDAY 20 JUNE at 10.30 am
Led by David/Rita