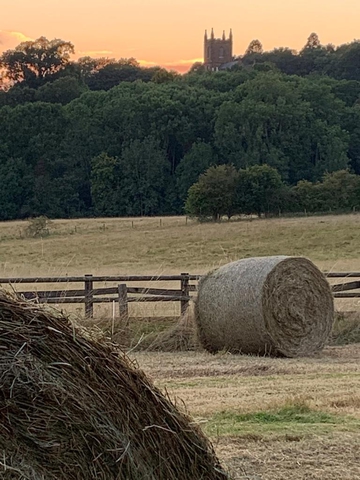 CHURCH OPEN DAILY at least between 10 am and 4.00 pm
FORTHCOMING
HARVEST SERVICE will be held on Sunday 10 October at 10.30 am when we will be delighted to welcome Toby Thorns to preach on the care and protection of our planet. Church will be decorated by the Flower Guild (any new volunteers will be warmly welcomed) and donations of food will be placed on the alter. None perishables are practical but any fresh produce will celebrate the gardeners' delight!
A SERVICE FOR ALL SOULS will be held at the beginning of next month, Sunday 7 November at 10.30 am when Canon Keith will lead. Words and music will provide a sacred time and space for prayer and reflection and lighted candles will be placed on the altar. Please do come along to our beautiful parish church in search of comfort; the Vernon chapel entrance can be used to avoid steps and extra parking will be available at Hanbury school.
LOOKING BACK
At the end of August, BOWBROOK CHURCHES WORSHIPPED TOGETHER IN STOCK AND BRADLEY GREEN as this parish returns to the fold. Archdeacon Robert Jones preached inspirationally on the love which God has for all of us and encouraged the art of positive thinking. The church looked lovely and the welcome was warm and after refreshments, a Christening followed. Thank you to all for an enjoyable time.
Thank you to all volunteers who were engaged by Hanbury church to assist on the day of the HANBURY SUMMER SHOW and provided homemade cake for judges and sponsors. Weather was all the better for being not too hot and there was plenty to enjoy. Highlights were the giant steam driven vehicles and over seventy vintage and veteran vehicles including nostalgic 'props' from bygone days. Also on offer were giant tortoises, working dogs and haymaking demonstrations, a scarecrow competition, Royal British Legion stand, and for people who enjoy the beauty and unique qualities of timber, Gary and Roger's samples of raised beds, household joinery and rare woods suitable for wood turners and artists. Children could visit the 'petting' enclosure and meet Beagles and hounds in the show ring. Equestrian events continued throughout the day. Thank you to everyone who worked so hard and kept smiling.
Thank you to Claire Stallard, the Parish Council and Atwood Bank Cricket Club for THE HANBURY GATHERING when we spent a warm afternoon on the recreation ground. The new pavilion which has changing rooms for sporting activities, meeting room and kitchen has lovely views from the veranda and offered the most fabulous cream teas and cakes. While the sports people were busy working through a programme of cricket related events for children, men and women, the villagers enjoyed stalls provided by WI, Hanbury church and Old Bell Farm (local honey and dog grooming). It certainly was a relaxed opportunity to speak to one another. Hanbury church invites all local businesses to advertise on the church notice board set aside for this purpose and to advertise in this publication.
Hanbury church was visited by four serious cyclists participating in HISTORIC CHURCHES SPONSORED RIDE AND STRIDE raising funds for restoration of our precious local church buildings. Thank you to Jane and Toby for their loyal involvement and to all sponsors. Fifty percent of funds raised go to a specified church and the remainder to the trust.
The Photography display OUR TRANSPORT HERITAGE ANCIENT AND MODERN has now been put away and we thank Paul Jones very much for providing photographs of such excellent quality and 'atmospheric' subject matter. Visitors to church enjoyed both these and Phil Ruler's Eco Churchyard display and we look forward to seeing more of their work in the future. Copies of Paul and Phil's photographs can be ordered through church.
ITV NEWS AND WEATHWATCH PRODUCER has made contact with us regarding filming for a documentary on the hilltop. A viewer called Heather had commended the panoramic views so the presenter Des Coleman has interviewed her by the toposcope. We don't yet know when the programme will be aired.
REGISTERS
Interment of ashes
Anthony Francis AKERS aged 79 years
Clive Walter BROOKS aged 73 years
The Revd. David Morris officiated
Remembered in our prayers
'May they rest in peace and rise in glory'
SERVICES IN OCTOBER - see schedule
FUTURE
7 November at 10.30 am – 'All Souls' with memorial candles led by Canon Keith
14 November at 10.00/10.30 am – 'Remembrance' in church or at village memorial tbd
12 December at 10.30 am 'Crib Service'
19 December pm (time tbc)
'Christmas Readings & Carols by Candlelight' or
'Walk Through Music and Candlelight'.
25 December am (time tbc) 10.30 am tbc 'Christmas Day Family Holy Communion'