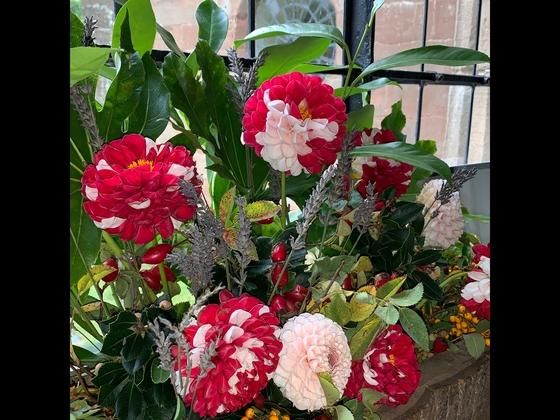 HANBURY – NOVEMBER 2020
Parish Church of St Mary the Virgin
www.hanburychurch.org
facebook - Hanbury Church
NOTICES
Hanbury church is well ventilated, high ceilinged and spacious
Gel and hand washing facilities provided
Masks must be worn – track and trace records kept
SERVICES THIS MONTH
Subject to government & C of E regulations
Holy Communion (wafers only) on three Sundays
Morning Prayer on one Wednesday
Weekly Sunday services on Zoom
Church open for at least one hour before and after the services
ROAD CLOSURE – ASTWOOD LANE FROM SCHOOL TO CHURCH
The county council has advised that the road will be 'patch repaired' from 3 November for 14 days; access to properties only will be allowed for the duration. This probably will not affect Holy Communion with act of Remembrance on Sunday 15 November at 10.30 am. but please consult website for latest information.
NEWS
FRANCES FORD MEMORIAL FUND now stands at £335.00 in support of British Heart Foundation and Hanbury Church. The PCC thanks Frances' family for this kind support and cherishes the loyal service from the Ford family over many years.Frances' mother in law Winnie made Hanbury history by being the first female Churchwarden for Hanbury!
On Friday 2 October, it was a great pleasure to meet ROBIN COOKE'S FAMILY for the INTERMENT OF ROBIN'S ASHES.Years ago, Robin had lived at Lombards and eventually brought up his family in Courts Close. Daughter Carole sang in the church choir and remembers the old church boiler in the basement which was stoked up by the Sexton and his daughter late on Saturday nights ready for the Sunday. The church felt gloomy during the dark winter months and on one occasion, the choir children ran out in fear when they thought they heard the organ playing all by itself! Christmas services were jollier with decorations and candles and the rector's voice boomed; that would be Nicholas Judge!
For HARVEST FESTIVAL, Canon Keith officiated for Holy Communion on the feast of St Francis of Assisi and spoke about a particular aspect of 'love'.Keith is more than a fan of St Francis but after a few words about his own aspiration to follow, spoke about the aspect of love which he called 'maintenance'. This had been mentioned on a radio 4 Sunday morning service during lockdown and is the love displayed by those who do essential tasks such as paying bills, putting out the dustbin and sweeping the floors. Let's treasure this idea!
Thank you for generous CONTRIBUTIONS TO DROITWICH FOODBANK donated at the service.Our collection point remains open during services but many are using other routes through which to donate. Tinned custard and dried potato have been requested – see church website for full list.
On 7 October, David Morris visited each classroom for HANBURY SCHOOL HARVEST FESTIVAL. The new children from Reception then crocodiled up Church Hill in the sunshine, for a first exploration of church. Lots of chattering and giggling followed as they looked for the red dragon, the unicorn and the secret door.Hanbury School parents had once again donated generously for harvest and we thank them very much for this. A photograph of their groceries may appear on the cover of this publication!
The POSTPONED APCM AND PCC ZOOM MEETINGS were held on 6 October and became a marathon conducted by two heroic church officers, chairman Sue Jenkins and secretary Bridget Weaving.
The APCM looked back over the year ending December 2019 and included the usual unremarkable reports which are available on application of anyone would like to read them. Liz Holbeche provided an interesting report from the ringing room, extracts from which can be seen below.
The PCC MEETING explored current issues which are by no means unremarkable as we search for ways to operate under everchanging regulations.Please especially remember church officers and workers in your prayers.
EXTRACT FROM RINGERS APCM REPORT FOR 2019
Hanbury Ringing activities April – December 2019.As a dedicated and committed group, it is considered an essential service to the Church, the prime reason for ringing the bells; but also, to remind the wider community that the Church, particularly this church, is alive and vibrant, as also is at the art of English Church Bell Change Ringing.
The band includes many older ringers who have supported the Church in this way for many years, wherever they have lived.They now continue this long-term commitment, on these fine bells at Hanbury.Paul Platt has been fortunate to live here all his ringing life; this year he celebrates 65 years of ringing at Hanbury.
On 18th April 2019, we rang from 1750 - 1800hrs in solidarity with the people and community of the Cathedral of Notre-Dame de Paris, following the fire. The local band raised and rang five bells in a 'continental style' - then, lowered them in the traditional English manner.
Funeral of Margaret Eachus 3rd June 2019.Margaret learnt to ring in the late 1940's and rang for over 60 years at Hanbury until ill-health prevented her from climbing the tower steps. A board in the tower records a quarter peal in which both Margaret and Betty Birch rang for the Queen's Coronation in 1953.
Over the few weeks prior to her funeral, the Ringing Master organised special ringing on Sundays and at practices in memory of Margaret.The bells were rung half muffled for her funeral - Margaret's touch; a short length, and special pattern of changes that Margaret enjoyed ringing the Treble bell in her later years.Grandsire Triples, was rung on the eight, for each decade of her ringing life. The tenor tolled as her coffin entered the church.
As Margaret's coffin left St Mary's, she was saluted by two bells; the Treble and the Third, the latter being the bell she rang in the 1953 quarter peal. Later that afternoon, a quarter peal of Grandsire Doubles, similar to the one rung in 1953, was rung by local ringers in her memory.The band has yet to decide on a memorial within the tower for Margaret.
Before the August service in 2019, the Ringing Master Steve, on behalf of the local ringers, and in consideration of events from the previous five months, which we would normally have marked, rang 99 blows in celebration of The Duke of Edinburgh's 99th birthday, then a slower 75 blows in respect of VE and VJ Days. In September, 80 blows each were rung in celebration, and then in memoriam, of the 80th Anniversary of The Battle of Britain.
Other ringing activities included ten weddings, mainly by Sunday service band members, but occasionally supplemented by individuals from Feckenham, Inkberrow, Claines, Hallow, Studley and Bromsgrove to enable all eight bells to be rung.A quarter peal of Plain Bob Triples was rung by the local band on 31st December 2019. This was to commemorate the 80th anniversary of the casting of the present ring of eight bells by John Taylor and Co., Loughborough in 1939. It was conducted by the Ringing Master.
Visiting ringers.During the past eighteen months, a welcome has been extended to other ringers. There were 12 successful peals - 10 by the Vale of Evesham Society, 1 each by the Trent Valley Association and the Worcestershire and Districts Change Ringing Association.Visiting 'groups' included one from Northamptonshire which enjoyed having their tea in the church, and also bell ringers visiting from Washington DC and another band from Italy who rang in their special way as local residents observed.
Liz Holbeche, aided by Steve Townsend and Jenny Walton
REGISTERS
Interment of ashes
Robin COOKE - reunited with wife Daphne
Revd Rita Holden officiated
Remembered in our prayers
NOVEMBER DIARY
FOR ALL SERVICES AND ZOOM
see other pages
Sunday 1 November at 9.00 am
HOLY COMMUNION WITH ALL SOULS
BCP style
Led by Canon Keith
Sunday 8 November
VILLAGE WAR MEMORIAL CEREMONY
Stoke Works and Hanbury Royal British Legion
9.45 am Gather in the Croft
10.00 am Two-minute silence
NB CEREMONY AT STOKE PRIOR AT 11.00 AM
Sunday 15 November at 10.30 am
HOLY COMMUNION WITH ACT OF REMEMBRACE
AND BRITISH LEGION STANDARD
Led by David Morris
Wednesday 25 November at 11.00 am
MORNING PRAYER – lay led
Tea and Coffee table service if permitted
Sunday 29 November at 10.30 am
GROUP ADVENT SUNDAY HOLY COMMUNION
Led by David and Rita