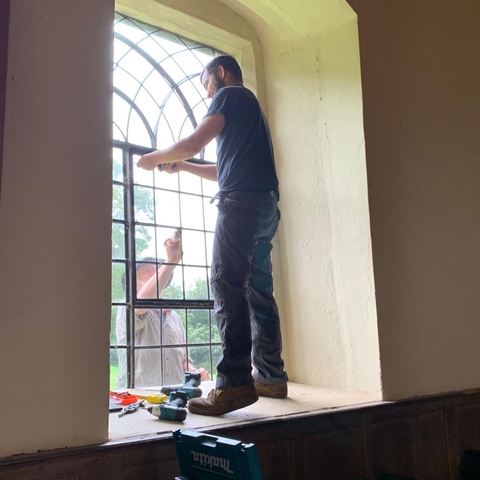 HANBURY – OCTOBER 2020
Parish Church of St Mary the Virgin
www.hanburychurch.org
facebook - Hanbury Church
Instagram - Hanbury Church life & love
SAFETY GUIDLINES
Limited opening
Clean hands – wear a mask – 2 metre distance
Sign Track & Trace record
Up to 30 permitted for services (no need to book)
Hanbury church is well ventilated, high ceilinged and spacious
Gel and hand washing facilities are provided
Masks must be worn - disposable masks available
Subject to government guidelines, this month we are offering
Holy Communion (wafers only) on two Sundays
Morning Prayer on one Wednesday
Weekly Sunday services continue on Zoom
Church will remain open for one hour before and after the services
NEWS
The annual SPONSORED RIDE AND STRIDE which raises funds for church restoration in Dudley and Worcestershire went ahead this year in a 'Covid modified' form, on the second Saturday in September.All churches were invited to participate and this year, keen cyclist Toby Thornes, kindly publicised a Bowbrook church tour which encouraged new visitors.
In recent years, the day has been enhanced by a HERITAGE EVENT which encourages churches to put on supporting attractions.Hanbury offered a fresh viewing of our Archers' memorabilia and also displayed beautiful photographs taken by ringer Paul Jones and sidesman Philip Ruler.Various 'props' were arranged around the church accompanied by jazz and classical music to delight all the senses!
Thanks to stewards and all who made delicious cakes to serve with take away drinks to enjoy in the Indian summer sunshine!If you would like to further support church restoration, please pass on SPONSORSHIP MONEY to Jane Brian.
Just before last Christmas, an attempted break in left Hanbury church with a costly repair to a DAMAGED OPENING LIGHT, in the north aisle.The metal frame was distorted and some small clear glass panes were broken. Now we see a beautifully crafted replacement thanks to the skills of Ben Sinclair of Norgrove Glass Studios (Elcocks Brook) and Tom Barrett from the 'Artmetal' workshops in Pumphouse Lane.We are most fortunate to have these two experienced and talented craftsmen on our doorstep. Costs above the PCC's 'excess' have been met by Ecclesiastical Insurance who have been supportive in every way but any extra costs and impact on our time is regrettable.
Happily, the repaired window seems to look even more beautiful than it did before. Many of the church windows are not stained glass, but clear 'blown glass'.This is why the views of the woods and churchyard 'shimmer' so beautifully and also have rich 'shining black' quality at night.On the other hand, modern glass is perfectly 'flat' both physically and visually. If you have not noticed this before, do take a look.Blown glass can also be a great asset in historic residences!
SEE SEPARATE EMAIL FOR PHOTO
'BEN AND TOM FIT THE REPAIRED OPENING LIGHT'
HANBURY SCHOOL LEAVERS gathered in school with David instead of coming into church. We wish them well in their new schools.
REGISTERS
WEDDING
Callum Jack MEGRAM and Rhiannon COATHUP
David Morris officiated
Our love and blessings go with them!
OCTOBER DIARY
FOR SERVICES IN CHURCH & ON ZOOM
see back pages
HARVEST FESTIVAL - plan not yet decided!
Please visit the WEBSITE
for up to date information