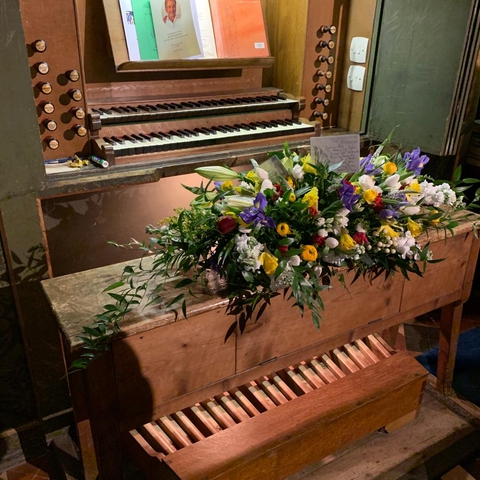 BOB OUR ORGANIST – HANBURY'S TRIBUTE
It is clear from all our friends, contributing from Hanbury, that Bob brought music and happiness into all our lives in church and in our wider communities.
John Spencer remembers that he always helped with choices of hymns for services and would always be able to find a tune to fit new hymns we wanted to try. John says
'He was an Absolute Gem – you could ring him up at any time and he would always say it was no trouble to help'. Sue Jenkins recalls that Bob made singing fun, playing the organ with tremendous verve and vigour- At the beginning and end of services he favoured great tunes, often from shows, so that it was hard not to dance in and out of church and maintain a proper ecclesiastical choral dignity.
John remembers dances at the Village Hall with Bob playing and Sylvia singing. At the time of Reverend Judge in the 1970s, he remembers the Chandler Girls performing 'Joseph and his Technicolor Dreamcoat' in church with Bob accompanying. Bob embraced the age; - At work he drove long distances and at home he was building a swimming pool.
In the 1980s Sue joined the church choir with her daughters and remembers Pat Morris encouraging the children in the choir by bravely providing them free recorder lessons. Bob applauded the initiative, was note perfect in his accompaniment and, despite his bonhomie, was very professional in his support. Nobody talked too much, while waiting to take their places in the pews.
In the 1990s Bob supported our fundraising efforts with a Marathon Songs of Praise Hymnathon, lasting 1 hour and 40 minutes, playing 24 hymns in one session.
Our final Hymnathon, was at an 'Open Door' Service last August. Bob was waiting for treatment at the hospital. He had not slept for 3 nights and was in pain. - but he was completely immersed, while playing the organ, supported by his family- Sylvia and John.- He managed 15 hymns perfectly and didn't appear tired – a tremendous feat.
After treatment, he came back to us, playing beautifully for what was to be his last Service of Lessons and Carols.
At the turn of the century we began to hold more family-oriented services at Hanbury. Bob was delighted to include children's songs and would take the playing of 'Happy Birthday' as seriously as any of our more grown up hymns.
Similarly, Bob helped make weddings a joyful event. Chris and Kevin Wilkes remember him enthusiastically playing 'Let's Go Fly a Kite' while Richard and Katie skipped down the aisle at the end of their wedding.
During our weekly services Janet Winslow recalls that Bob was always there, as a steady presence, his music setting the tone of our services, an integral part of our worship. Breaking away from dated and studied solemnity, his choices of music spoke only of life and light.- the mixture of classical religious works, allied with the more secular tunes added joy and surprise and inspiration to our lives. She remembers Bob playing 'Prelude to Te Deum' by Charpentier and musing that it is also the theme music for the Eurovision Song Contest. Which was he playing? - God and Mammon indeed.
Judith reflects – 'Bob was not only handsome, charming and talented but utterly reliable and insightful. The apparent ease with which he operated among such a variety of people and in so many different locations was outstanding, winning the hearts of all. He was the safest pair of hands imaginable and we loved it when Sylvia and John were able to along to church too.'
We will never be able to replace Bob and we will miss him. But, when we hear some of the more pacy hymns, we will smile and remember- Nobody plays 'Shine Jesus Shine' or 'Phantom of the Opera' like Bob the Maestro.