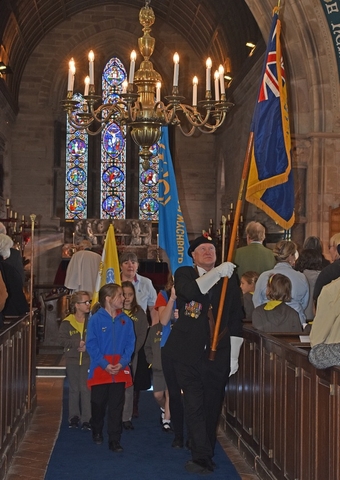 Over 200 people were present a the Hanbury Annual Memorial Service,
We were joined at the village memorial and also in church by Captain Walford's great grandson from Hertfordshire and also decedents of Edward Brazier who had travelled from Surrey.The most extraordinary coincidence was that one of Edward Brazier's service medals had been found in the earth at Shernal Green, when footings were being dug for an extension.This was returned to Edward's family after the service, minus the ribbon and slightly corroded but in relatively good condition!
The time and care of so many made this particular Remembrance Sunday very special, from the cutting of grass, to the making of large saucepans of post service soup.Thank you to the Royal British Legion, Guides and Brownies for ceremonial duties, and to Alan Quine's granddaughter for playing the bugle.Ringers in the tower provided evocative muffling of bells 6, 7, and 8, and David produced a moving service with souvenir order of service including photographs from Phil Ruler. The displays in church gathered together all that has been carefully researched and these have continued to be appreciated and commented upon by visitors and parishioners. The ringers decorated the porch and the Flower Guild provided wonderful floral decorations with flags inside the church.Thanks to Bob and Sue for music and song and to over two hundred and fifty people who came along to share the ceremonies at both memorials. So many people took part in what will surely be held dear as a day to remember.
Parishioners' family history, first displayed in 2014, will continue to be on display into December. Did anyone hear the Hanbury bells on the Archers?