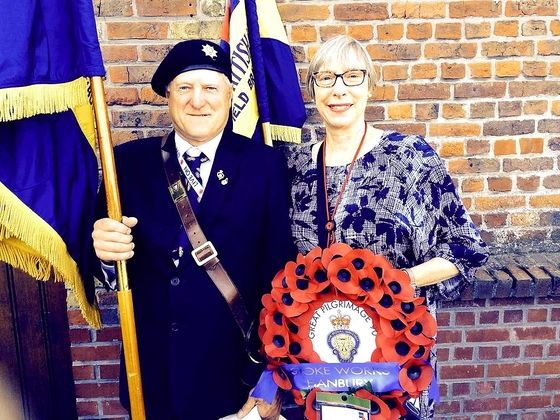 GREAT PILGRIMAGE 90 CEREMONY IN YPRES (GP90)
Hanbury's Gary Gartland joined standard bearers while I joined wreath bearers to be led through the city by the band of the The Scottish Royal Marines.Spectators lined the route, some shedding quiet tears of gratitude for the ultimate sacrifice made by over a million men.The intense heat of previous days had given way to a cloudy sky and gentle breeze which were a blessing to the standard bearers in particular whose duties required a degree of strength, skill and concentration in order to maintain dignity!
The forty-minute ceremony at the Menin Gate took place beneath the arch, bearing among others, the name of Hanbury soldier David Gower. Addresses featured an account of the last one hundred days of the war when allied troops rallied in a change of tactics which brought the war to an end and also words from The Archbishop of York, reaffirming our commitment to remember Elgar's 'Nimrod' and 'Abide with me' were among pieces played by the band, while wreath bearers stepped forward to place their poppy tributes in ranks of sixteen, last post which is to this day sounded at the gate each evening, was followed by the National Anthem.
After lunch, with banners safely replaced on the back seats of coaches, music of all genres was played in the square. Belgian beer, ice cream and chocolate were sampled as people made new acquaintances. It felt quite natural to sing 'There is nothing like a dame' and 'Younger than springtime' from South Pacific with an elderly English gentleman from goodness knows where the atmosphere was wonderful.
Gary and I will be reporting briefly to the History group, and 'the Legion' will supply all branches with a short film to include footage of French memorial sites visited over two days prior to the ceremony this will be shown in church on and around the time of Remembrance Sunday when, as a village, we turn our hearts and minds to the mood here one hundred years ago, when warfare ceased and the cost was counted.
Thank you to everyone at Stoke Works and Hanbury branch for inviting me to be a representative along with Gary; it was a great privilege and a great joy, never to be forgotten we now look forward to reviewing the church Great War displays and consolidating all the exhibits which have been contributed over the last four years in readiness for the service at 10.50 am on Sunday11 November when the legion banner will be in church for the annual service.