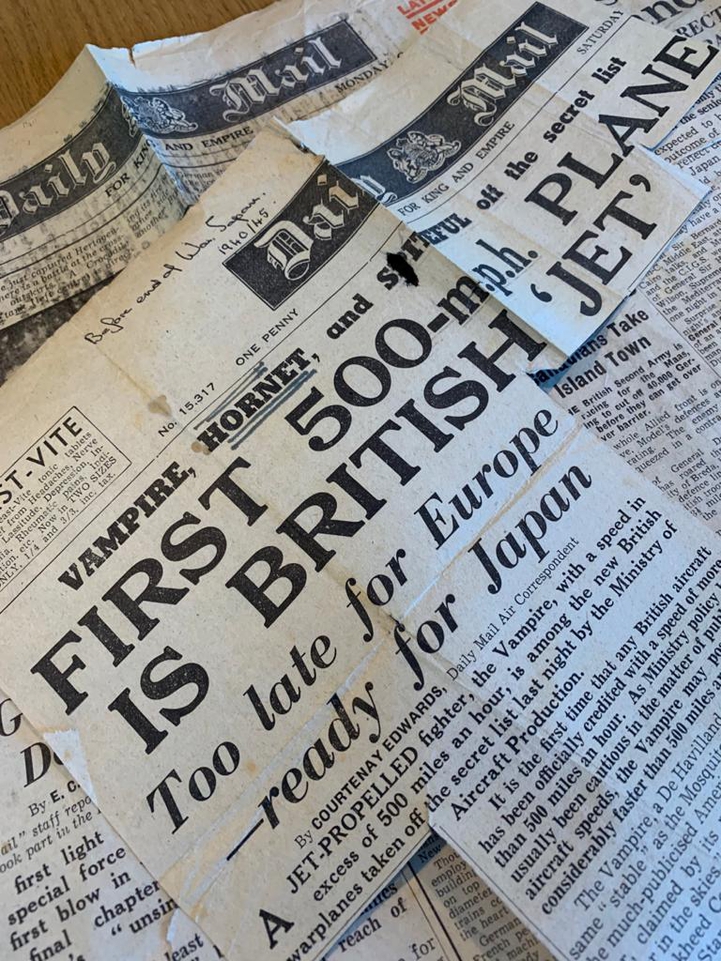 VE DAY 75 COMMEMORATIONS
FRIDAY 8 MAY 2020
(during coronavirus lockdown)
11.00 AM TWO MINUTE SILENCE
VE DAY 1945 Remembered
by Hanbury residents and friends
'I was just under two years old but my sister who is 86 remembers this. She and my other 3 sisters had returned from South Wales where they had been evacuated, just in time for a huge street party which closed the road off for the whole day; not that anyone owned a car of course!'David – Stoke Works & Hanbury RBL
'Strangely enough I was telling Leslie this morning that my friend was staying with us. We were 14 years old and my father allowed us to go to Chamberlain Square (Birmingham) to join in the celebrations. We danced with everyone but we had to be home by midnight!'Geraldine - Hanbury church
'My memories of the day are vague as I was only five years old at the time. My parents and I lived in Camberwell, South London but my four elder siblings were living in Somerset for the war period; my mother kept me with her because of my age.
On the day, I remember my parents catching a tram and bus to go to central London, and my father sitting me on his shoulders outside Buckingham Palace so I could see the King and Queen through the railings. He also took us to Piccadilly Circus and I don't remember feeling frightened by the amount of people and the noise (singing etc) or the amount of very colourful flags.In fact, maybe that is one of the reasons I still have this inner love of flags.I also love the countries that fly them continuously (not just France and USA) but on my travels round the world I saw lots of far eastern countries flying them all the time. He also took us along the Thames embankment via Trafalgar Square to see Big Ben and Parliament (no idea of the time because at 5years old I couldn't tell the time anyway).
Distant memories are hazy but the happiness, singing, dancing, colour and of course so many military uniforms of which countries I have no idea, feels clear. The only motor traffic I remember was buses, because the trams stopped at theriver, I think because of the bridges, so it was the people that were enjoying it all.
When I see the old film on television, I must count myself lucky I was there, but I would love to have been a little older so that I had deeper memories. Then of course it was bus and tram home; what time we arrived I have no idea and was probably fast asleep.'Laurie – Hanbury
'I was living in Litchfield but for some strange reason, I remember only the anticipation of the day and the building of a huge bonfire on open ground. Planes were flying over during the day which was hot and sunny, bringing troops home.There were definitely fireworks at night!'Jeff – Hanbury ringers
'The end of the war coincided with the end of my mother's training to be a domestic science teacher and she was in London at last, enjoying the Victory Celebrations.
She dined with a Naval Officer in a select restaurant and after delicious food and splendid service, to their amazement, their bill was waived. Later they learnt that Princess Margaret had dined at the restaurant the previous week and realised that Mum had been mistaken for Princess Elizabeth.
For my first few years I also believed my mother was the Queen – the evidence could be seen in the photographs I could see in newspapers. It was only when the Queen travelled to Africa it dawned on me that she was a long way away and could not possibly get back in time to cook my dinner, that I finally realised they were two different people.'Jenny - Hanbury
'I was not yet born but my mother told me that she and my father went to London from Birmingham to gather in Trafalgar Square.My father had his wallet stolen but this did not dampen their spirits. The crowd shouted 'We want Winnie'. They loved it'
It has to be said that my parents had a relatively 'gentle' war experience, my uncle surviving Dunkirk and my father using his skills at De Havilland aircraft factory. It was a great sorrow that his best friend Ken Hipwell was killed in action and along with all the loss, suffering and destruction, the war was continuing beyond Europe.' Judith - Hanbury
'I have no memories of VE Day.My father was still locked up in Changi prisoner of war camp in Singapore where he stayed for three and a half years.All mummy got was a post card and no idea if he was still alive or not.There was news when the Japanese put in a new telephone service to see if they could call Australia. Prisoners were directed to speak while the Japanese listened in.People in Australia then contacted mummy to let us know that they had heard his voice.'Margaret – Hanbury
DON'T MISS BBC TELEVSION EVENING COVERAGE
FRIDAY 8 MAY 2020
8.00 – 9.00 PM
SONGS FROM THE ERA
'QUEEN'S MESSAGE'
DOORSTEP RENDITION - 'WE'LL MEET AGAIN'!